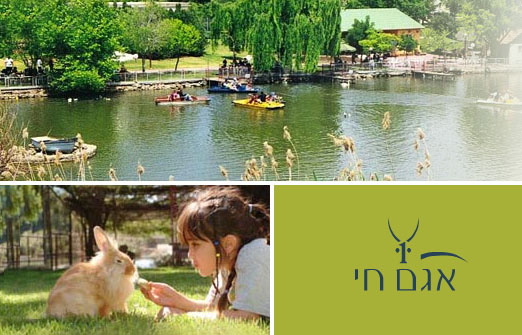 This is a holiday and recreation site, built around an enchanting natural lake. The site serves as a tourist attraction, a center for animal-assisted educational activities and a special events venue.
Activities at the lake:
A petting zoo featuring a wide variety of animals, some of which wander around freely.
Touch and feed the animals.
Petting corner
Nature films club (video)
Sail on the lake in pedal boats, through the reeds, see the marsh turtles close up and feed the ducks swimming in the lake.
Leisure and recreation park, with lawns, shady trees and picnic tables.
Fishing by the lake – fishing rods can be rented on-site; fish is sold by weight.
Large playground with a variety of play equipment.
Snack bar for light meals.
Relaxation and swimming at the kibbutz swimming pool in the summer.
Arts and crafts corner and a taboun (pitta bread oven) that operate mainly during the summer and Jewish holiday season.