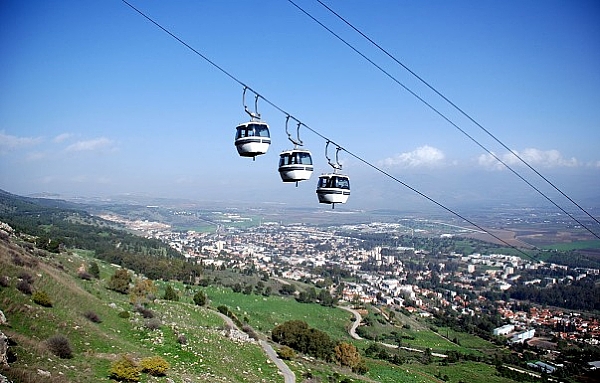 The Manara Cliff is home to the longest cable car in Israel, which runs from the southern foothills of Kiryat Shemona to the heights of the Naftali Range by Kibbutz Manara in the Upper Galilee.
The cable car stops at three terminals, each of which features activities exclusive to that location. Hover up in the air in the white cabins at a height of up to 40 meters and experience sensations you've never felt before. Enjoy the cool, fresh air and gaze over the Hula Valley, Mt. Hermon and the Golan Heights spread out before you in a panoramic vista.
Other facilities offered at the Manara Cliff site offer a dazzling array of activities, ranging from a relaxing swim in the pool to extreme sports, para-gliding and speed sliding in carts.
Mountain sliding: an experience for the whole family.
The mountain slide track is 1100 meters long and offers a thrilling and spectacular run, controlled by the driver and reaching 40 km/h – a truly amazing experience that you'll want to repeat!
(Suitable for all ages; children below 1.4 meters in height must be accompanied by an adult.)
Climbing wall: an artificial climbing wall rising to a height of 16.5 meters, with two parallel climbing tracks and the option of climbing the upper section at a negative angle. During your climb you are secured by a rope and supervised by a qualified instructor. Suitable for aged 5 and above.
Zip-line: the longest zip-line in Israel and the steepest in the world (37 degrees)!
The slide is set at an angle to the cliff along a 200 meter-long cable. You will be attached to the zip-line in a seat harness, while your hands remain free. A jeep will pick you up at the end of the slide and return you to the starting point. You can slide in pairs. Suitable for all ages (minimum weight of 30 kg for each user).
Rappelling: a vertical drop from the cliff from a height of 40 meters. You wear a safety helmet and rappelling harness and you control the descent yourself, under the guidance of an instructor.
Cycling: a number of routes for mountain cycling are offered:
From the middle terminal to the lowest terminal in Kiryat Shemona. The 12 km route runs along a hilly, forested landscape, affording a gorgeous view of the Hula Valley. Suitable for 12 years old and above. Moderately difficult.


Lake Hula trail – a trail around the new lake in the Hula Valley. The trail provides opportunities to observe the different bird and animal species that inhabit the area, as well as beautiful spots to rest and enjoy a picnic. The route is 9 km long and suitable for all ages. Moderately difficult +.