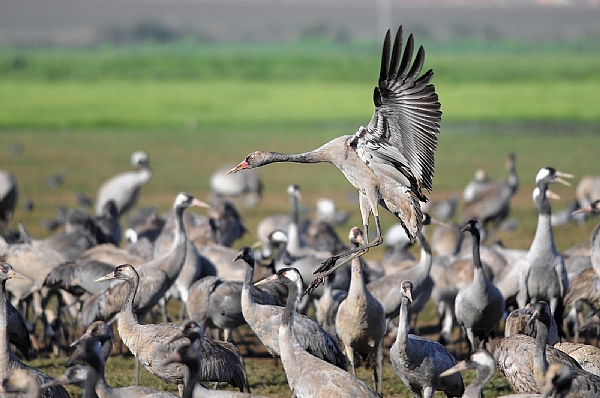 One of the most prominent tourist attractions near Amirim is the Agamon Hula Park.
What is special about the Agamon Hula Park?
Agamon Hula Park is the only ecological site in the world that gives its visitors a rare nature experience combined with original tales. Over half a million migrating seabirds, birds of prey and songbirds pass over its skies twice a year giving its many visitors and bird lovers a chance to watch the birds close up in their natural habitat without disturbing them.

The park also offers its visitors a fascinating trail, around 8.5 KM long that passes through water and orchids. There is also a cafeteria, souvenir shop, information centers and the ability to rent bicycles, club carts and safari wagons and also observation and training equipment.
Ways to tour the site
Thanks to the various means of rental in the park, everyone is invited and welcome to visit including families with babies, elderly people and those who are physically challenged. The entrance to the park is free, though the park charges 5 shekels per visitor over the age of 3 years, a token amount for the "Crane Project".
In order to maintain the ecological balance of the park, private vehicles are not permitted entrance. The park can be toured by foot, bicycle, golf carts or safari wagons. Tours by foot or using personal bicycles are free of charge. Golf carts, safari wagons and bicycle rentals are charged.
Bicycle tours
A variety of bicycles can be hired including mountain bikes for children and/or adults and also family bikes can be hired with 7 seats.
Golf Cart Tours
Renting a golf cart will allow you to tour the park independently without physical effort.
Safari Wagon Tours
A guided tour in a safari wagon. This tour allows you to observe the birds and animals who live around the birds up close and with a guide. This tour should be reserved in advance.
Accessories
The Agamon Hula Park provides rental services for observation equipment including binoculars, bird guides and an electronic guide that provides explanations at each station visited.
Opening Hours
The park is open to visitors on Sundays to Thursdays from 9am until one hour before dark. On weekends and holidays, opening hours are from 6:30am until an hour before dark.
Please note that no private bicycles are allowed on site on weekends and holidays.
Agamon Hula Park awaits you, guests of Amirim, and we have no doubt that a visit to the park will enrich your vacation.