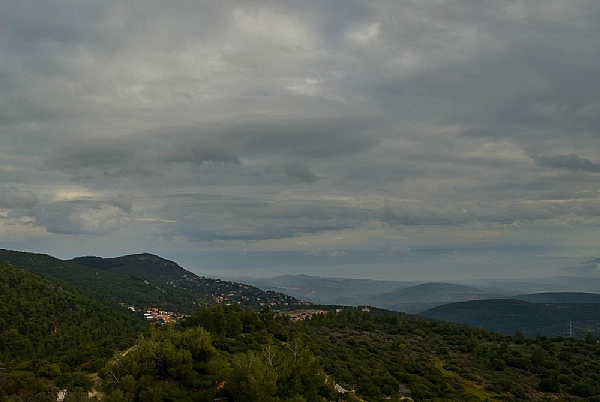 Mt. Mitzpe Hayamim, Ein Seter, Upper Amud Stream
The route begins on the Acre-Safed road (866) by the Kfar Shammai water cistern, between km 37-38 (1928-2613). The (blue) trail begins from a cattle gate and climbs in a south easterly direction along a paved road, which then becomes a path leading to the summit of Mt. Mitzpe Hayamim (ref. point 734). On a clear day when visibility is good, the summit affords you a view over the Mediterranean and the Kinneret, the Lower Galilee, Safed and Mt. Canaan. From the observation point, the trail descends eastwards down to the Seter stream and then into Ein Seter, where it meets the Amud stream. This part of the trail takes you through thick undergrowth, oaks and plane trees, all the way across the Mt. Meron nature reserve. The trail continues southwards by the Amud stream, ending at the Amiad-Kedarim road by the 40 km. mark. The trail is exposed.
Summary and Tips:
This is a challenging route over hilly terrain typical of the southern part of the Upper Galilee, covered with thick undergrowth and natural woodland. It begins by crossing the Mt. Meron nature reserve, where Mt. Mitzpe Hayamim provides a beautiful panoramic view into the distance. It then continues into the upper part of the Amud stream. Follow the route described above.
The trail is recommended all year round, except for very hot days.
In winter, it is slippery.
Where to start and end the trail:
Drop hikers off on the Acre-Safed road (Road 866) between km 37-38 (1928-2613). Pick them up on the Amiad-Kedarim road (85) at km 40.
Not a circular route.
Duration: 5 hours walking.
Last entrance time: 6 hours before dark.
Places to stop: Before going up Mt. Mitzpe Hayamim; at the summit; at Ein Seter.
Trail markings: Blue 2325 until Ein Seter, and then black 2317 and Israel National Trail markings.
Safety: In winter, the trail can be slippery.
Communications: In parts of the Amud stream, phone contact is difficult.
Evacuation: By foot only, to the Amiad-Kedarim road or the Acre-Safed road.
Note: There is nowhere to fill water bottles on the route.
Instances have occurred in which hikers have still been on the trail after nightfall due to bad planning.