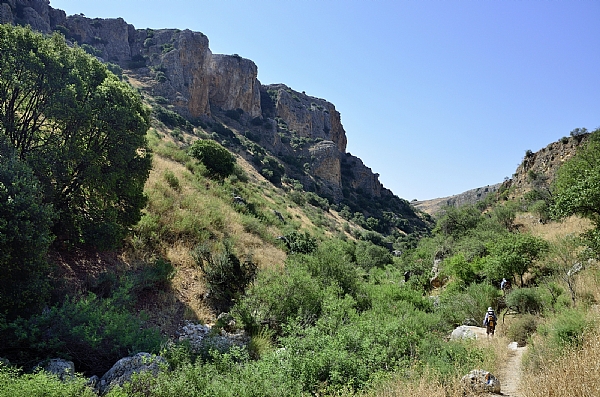 Amud Stream (Nahal Amud) Nature Reserve
The Amud Stream is a "miniature Garden of Eden"', an enchanting natural work of art. Here, by the side of a stream that flows all year round and in the shade of woodland and orchards, you can take a relaxing stroll, revelling in the beauty of nature. You can spend two to four hours by the stream.
What to look out for:
Ein Yakim (Ein Tina) – a spring which flows all year round, surrounded by fruit trees.
Plane trees – gigantic trees, among the largest trees in Israel.
Orchards – of lemon, apple, date, olive, plum, fig and pomegranate trees, as well as vineyards, irrigated according to traditional hillside farming methods.
Ancient flourmills.
A fulling mill – a mill for treating wool, a trade in which the Jews of Safed worked in the past.
Sechvi Pool – a beautiful pool of clear spring water.
How to get there:
Access to the Amud Stream is from the road from Carmiel to the Meron intersection, approx. 1.5 kilometers north of Moshav Kfar Shammai, (Route 866, between the 40-41 km markings). A kilometer-long road turns eastwards and leads to the car park. A footpath with red markings descends from the car park to the stream.
Nahal Amud has a camping site suitable for families, equipped with chemical toilets, taps and proper parking facilities, at a cost of 6 NIS per person for open-air camping.
The nature reserve also has a snack bar and an information booth that will advise you about trails along the stream.